Products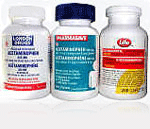 Generic Tylenol w/ Codeine - 100 caps
300mg Acetaminophen, 15mg Caffeine, 8mg Codeine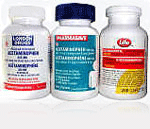 Due to a severe shortage of OTC products in Canada because of COVID-19,
200 tab bottles of Tylenol are currently NOT available.

If they become available again, they will be re-listed here for sale.

NOTE: 100 Tab bottles of Tylenol (Above) are still available for purchase.


Aspirin with Codeine has been permanently discontinued in Canada and will no longer be available.

Mersyndol - 100 tabs No Caffeine
325mg Acetaminophen, 5mg Doxlamine Succinate,
8mg Codeine
Robaxacet w/ Codeine - 200 caps
400mg Methocarbomol, 325mg Acetaminophen,
8mg Codeine
Robaxisal w/ Codeine - 200 caps
400mg Methocarbomol, 375mg Acetylsalicylic Acid,
8mg Codeine
Robax w/ Codeine - 200 caps
400mg Methocarbomol, 200mg Ibuprofen,
8mg Codeine
Sinutab w/ Codeine - 128 caps
325mg Acetaminophen, 30mg Pseudoephedrine HCL,
2mg Chlorpheniramine Maleate, 8mg Codeine
The information on this site is intended for reference purposes only. It is not a substitute for professional medical advice. Always seek the advice of a certified physician or other qualified health care professional before starting any new treatment or medicine. By purchasing any item from this site, you are agreeing that you're of legal age, in accordance with the laws of your location & agree to hold the owners & operators of CanadaRxDiscounters harmless for any actions associated with a transaction from their site. You also agree that you have read & agree with the Terms of Agreement information, the contract between the buyer & seller & detailed liability info. CanadaRxDiscounters is not liable for the use or misuse of products purchased through this site.